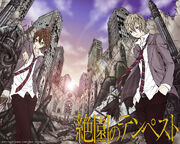 Zetsuen no Tempest 
(絶園のテンペスト
Zetsuen no Tenpesuto
) is a Japanese manga series written by Kyo 
Shirodaira and illustrated by Arihide Sano and Ren Saizaki. It was published in the Monthly Shounen Gangan magazine between July 10, 2009 and March 12, 2013. The manga contains 8 volumes with a total of 44 chapters.
Volumes and Chapters
Volume 1
1. Sorceress in the Barrel
2. She Was Pretty, the Boy Said
3. There Are Impossible Things In Magic Too
4. There Is A Reason For Everything
5. Contradicting Skull
Volume 2
6. I Don't Know What I Want To Be
7. Let Come What Comes, the Brother Says
8. Time Isolated Girl
9. Tempest
Volume 3
10. Boyfriend
11. How to Build a Time Machine
12. The Voice of Time
13. Daughter of Time
14. Swallowed By a Maelstrom
Volume 4
15. Minus Zero
16. To Be, Or Not To Be
17. Happy New Year
18. What Do You Think Will Happen?
19. Unending Trouble
Volume 5
20. The Unexplainable Story
21. They Seem to be Plotting Something
22. Marine Snow
23. The True Magician
24. Our Trip is Over
Volume 6
25. Resolved
26. Mind Your Own Business
Ad blocker interference detected!
Wikia is a free-to-use site that makes money from advertising. We have a modified experience for viewers using ad blockers

Wikia is not accessible if you've made further modifications. Remove the custom ad blocker rule(s) and the page will load as expected.